w
e th people of th
komix_klatch
have selected
Jack "Th King" Kirby
(28 Aug 1917 – 6 Feb 1994) of New York NY w/ our second-round pick. Not sure what has to be said about Mr. Kirby other than he invented th motherfucking
Silver Surfer.
According to Wiki
, Jack Kirby met Rosalind "Roz" Goldstein in th summer of 1940. He proposed to her on 25 September of that year, her 18th birthday. He was 23. That year was also th year Kirby and his collaborator
Joe Simon
created
Captain America.
Simon & Kirby would continue to work together cranking out hit after hit for th next two decades. They created th first romance comix book,
Young Romance,
in 1947. Jack stayed married to Roz for th rest of his life.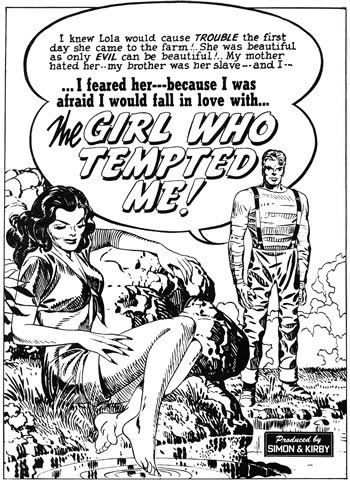 Although Kirby's partnership w/
Stan Lee
starting in th early 1960s was even more successful and iconic than his one w/ Simon, his time @
Marvel Comics
is also remembered for Kirby's frustration w/ th company. One of his specific beefs was "Marvel's failure to credit him specifically for his story plotting and for his character creations and co-creations." My sense of it, though, is that most people who love comix see Th King as Th King and Stan Lee as Th Jerk Face.
It is probably worth noting that Kirby created th first black superhero,
Black Panther
(1966, for Marvel), as well as
DC Comics
' first two black superheroes, whose names were
Vykin th Black
and
th Black Racer
(both 1971).
One thing I will never forget regarding Kirby is reading an interview w/
Gilbert Hernandez,
probably in
th Comics Journal,
wherein he was asked to compare th influences of Jack Kirby and
Robert Crumb
on his work. And Gilbert said something like, "Well, of course Crumb is brilliant, mebbe th best draftsman there is; but when I look @ one of his drawings I can more or less recognize where it came from. I can imagine coming up w/ an idea similar to that. But w/ Kirby, I look @ his stuff ...
and I just don't know
."